In the nineties, Jesús González used to tinker with his Spectrum computer and electronics kits, doing simple programming. He never imagined that one day computer systems would be his best ally at work.
Jesús, a proud service technician in Barcelona, Spain, has been with KONE since we acquired the company he worked for a decade ago. "I've always worked with elevators, ever since I first looked for a job when I was much younger," he recalls. He was so fascinated by the technology that in 30 years he was never tempted to look elsewhere.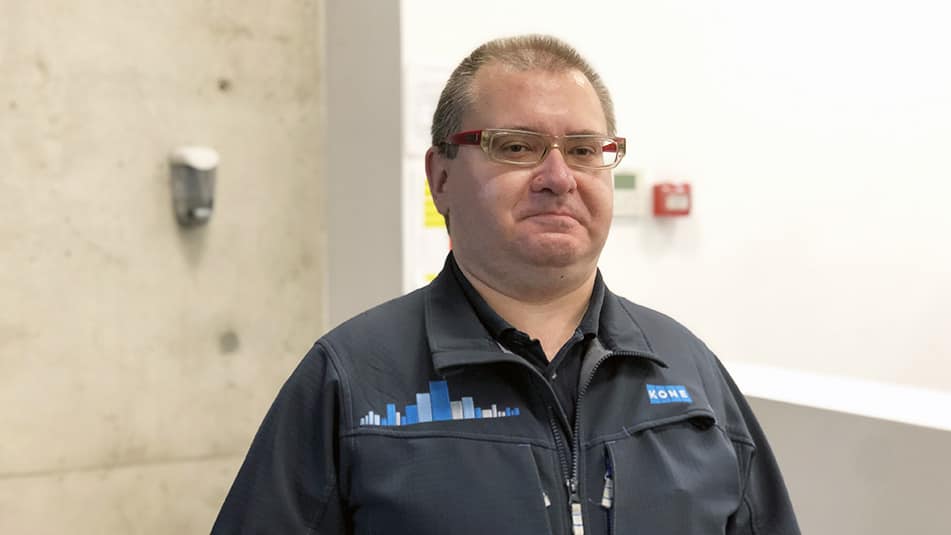 For Jesús, what sets KONE apart is the commitment to safety. "In this line of work, many unsafe situations could arise, and there's a lot of pressure from clients who want the elevator fixed quickly. But at KONE, safety is the priority, without compromise."
Another distinctive aspect of his job is the curious parallel between Jesús' love of books and movies and the predictive maintenance solution he works with, KONE 24/7 Connected Services. Using sensors, analytics, and cloud computing, this range of services can help technicians see patterns and anticipate issues, like a digital version of Sherlock Holmes combined with the round-the-clock availability of a concierge.
Round-the-clock monitoring and analysis
Data from elevator sensors can be monitored, analyzed and displayed in real-time, improving equipment performance, reliability and safety. The capabilities of KONE 24/7 Connected Services help our technicians serve customers better, by making their buildings more functional and user friendly.
This is how he explains this technology to clients: "I'm the one who comes for monthly service calls, but the system is watching the elevator non-stop and running analysis, making sure it works correctly night and day." Today it is possible to analyze data from over 200 parameters. The system can monitor actions like door opening and closing behavior, position and movement in the elevator shaft, usage statistics, stopping accuracy, mileage and drive time.
"For the client, this constant monitoring is a great advantage. It ensures that the elevator works as it is supposed to."
In most cases, clients may not know explicitly that this service was involved, but they will notice the speed of service. "If the issue is resolved, doesn't require extra parts, and the elevator works, the client is at ease."
Jesús once got an alert from the KONE 24/7 Connected Services app and, when he arrived at the property, the president of the homeowners' association was surprised. "I told her the battery was malfunctioning, that I had brought a new one with me that would only take 15 minutes to replace." She was impressed with the accuracy of the service. "All I could explain was that 'the elevator told me,' without going into detail about the technology behind our predictive maintenance system."
The man behind a smooth elevator
Jesús thinks this is a very practical and specific application of the Internet of Things, with privacy concerns covered by KONE's cybersecurity strategy.
"For many years, it's been possible to extract data from elevators, but the difficult part was analyzing them," he explains. "The advantage of our system is that it makes that analysis and warns you of what might be malfunctioning. Obviously, this saves you a lot of time and you can go straight to the problem."
For Jesús, KONE 24/7 Connected Services has proven especially useful to diagnose intermittent errors, or glitches that only malfunction sometimes and are working normally when the technician arrives.
"These kinds of errors would drive us crazy before because we had no way of knowing the cause, apart from professional experience and intuition. With this new technology, we can analyze what happened in the past." Technicians can 'rewind' and see the condition of the elevator at specific times, why it stopped and why it started working again.
Technology and human knowledge complement each other, and Jesús explains how: at the beginning of winter and with the sudden drop of temperature, he anticipates elevators will experience the typical seasonal snags and service calls will increase. "I know this from experience, before KONE 24/7 Connected Services notifies me," this skillful technician confidently says.
What to read next:
The smartest elevators deserve the smartest maintenance

KONE Care DX – the future of smart and sustainable maintenance
Jesús González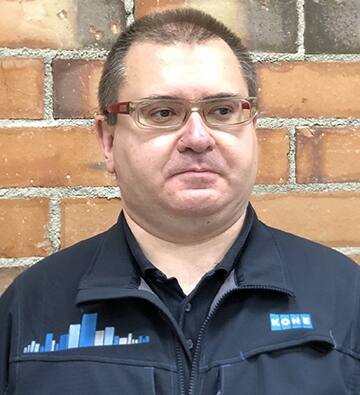 What do you love about your job?
"At the beginning, it was the discovery of new technology. Now, I enjoy being useful to people and knowing I'm being of service to others; for example, someone with a disability for whom an elevator is essential."
"If I could switch jobs for just one day, I would be curious to see the engineering side of the elevators — how they are ideated and designed."
What are your priorities when on a customer service call?
"Safety. This was always clear since I started working with elevators. When I arrive on-site, that's the first thing I consider: ensuring everyone and everything is safe."
What gets you out of bed in the morning?
"Seeing that the work I do is useful. If I don't do my job well, other people's lives might be more difficult."
"When I'm following up on intermittent errors, I check the 24/7 app when I wake up, to see if the elevator also had a good night!"
What's your best habit that helps you do your job better?
"Now that I am older, I can draw on my years of experience to inform my decision before acting. This habit is especially indispensable when it comes to safety, because what you do can have repercussions."