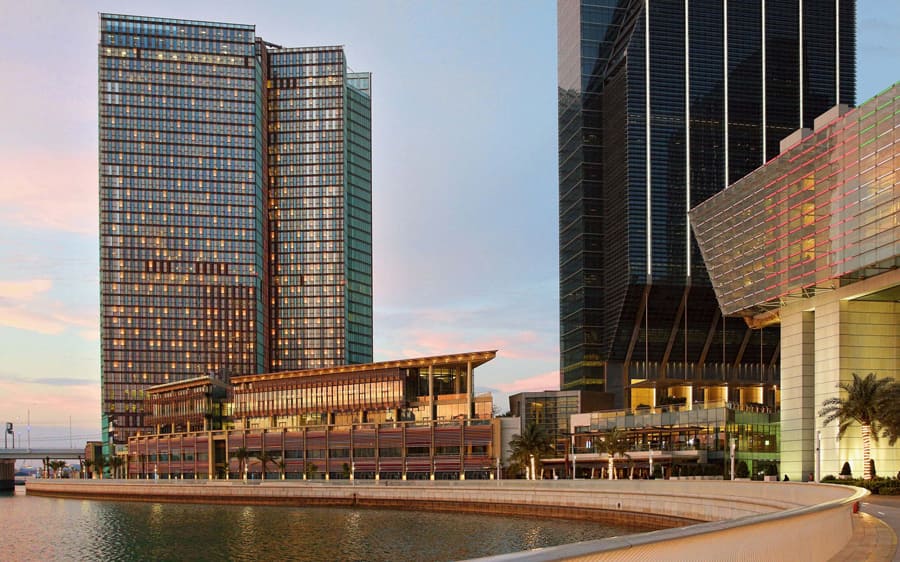 Text: David Cord
Abu Dhabi has gained great wealth from its oil and gas resources, but authorities have worked hard to diversify their economy and make it more sustainable. Investments have been made in a variety of sectors, including tourism. The number of tourists is currently growing at about a 15 percent annual rate and the region is expected to have 7.9 million annual visitors by 2030.
To meet this demand, transport infrastructure has been upgraded, retail stores have been opened, and new malls, museums and art galleries are springing up throughout Abu Dhabi. All these tourists need places to stay, so hotel construction is also booming, with an estimated 74,000 hotel rooms required to meet expected demand. Yet space is limited. Like Manhattan, most of the city of Abu Dhabi is on islands and the best way to expand is upward.
The luxurious and ultra-modern Four Seasons Hotel perfectly illustrates this. Commanding the waterfront of Al Maryah Island, the newly opened hotel plays a vital role in meeting the growing tourism market in the United Arab Emirates. And we have been tasked with providing vertical solutions to meet this objective.
From the ground up
"The four seasons was a demanding undertaking," says KONE project manager Hammed Feroz. "Our customer needed solutions which were fast and efficient, and they needed to be provided in a high-end luxury environment, with proper care taken to deliver the best experience for guests."
Our vertical solutions were making a difference even before the hotel was completed. During construction, our elevators were used to quickly and safely move workers and Materials. But the real value is in the completed building, where a variety of elevators and escalators are used to provide specific vertical transport solutions to match the client's needs.
Our MonoSpace® and MiniSpace™ elevators, which have been installed in the hotel, make an efficient use of space. The MiniSpace™ elevator only requires a small machine room, while the MonoSpace® doesn't use one at all. More space is therefore available for the guest facilities in the hotel. The solutions are also highly energy efficient, an important consideration for the hot climate.
All of the Four Seasons' elevators and escalators are monitored and managed by our advanced E-Link monitoring system. This gives hotel management an accurate view of the status, demand, performance and availability of the equipment. Staff can remotely activate or deactivate elevator functions and respond immediately in case of any issues. Detailed reports show the history of waiting times and availability so managers better understand the movement of people and can plan accordingly. The entire system is designed to make the flow of people as efficient for the operator and as enjoyable for the guests as possible.
Towards continuous improvement
The Four Seasons hotel Abu Dhabi is a good example of how the hospitality industry is developing in the region. Tourist demand is growing at an extremely rapid rate, and hotels need to be built quickly to keep up. Efficient construction elevators can be invaluable for getting structures completed on time and on budget.
Moreover, the finished product has to meet or exceed customer expectations. Vertical transport is considered to be one of the main factors for customer satisfaction. A good design can also maximize usable space. More of the top floors and roofs can be used for high-value areas like restaurants or suites.
Contractor Al-Futtaim Carillion points out that vertical solution technology in hotels is continually improving and the Four Seasons has a very advanced management system. They say that new technology is essential for providing access in the building, not only for the guests but also for the staff such as through service elevators.
"KONE delivered high-tech and efficient solutions as promised and I'm very happy with how the hotel turned out," says Joykutty who was employed by Al-Futtaim Carillion during construction. "So much so that we are already working with KONE on new projects."